Should I Rent Backhoe or Mini Excavator?
The backhoe has often been referred to as the swiss army knife of the construction site. It can do a little bit of everything. The mini ex may only be fitted with a single-arm, but the variety of attachments gives it a level of diversity that makes it very handy, too.
When it comes to these two pieces of machinery, it can be difficult to know how they compare to each other or when one is better than the other. Hopefully, this article will help you make a choice about when to use a backhoe vs a mini ex.
What is the difference between a Backhoe and a Mini Excavator?
The biggest difference between a backhoe and a mini excavator is that a backhoe has an additional loader on the front end of the machine.
Mini excavators are literally a tiny version of an excavator – usually weighing around or under 5,500 kg. Their front arm can be used for a variety of attachments, including augers, breakers, compactors, grinders, etc.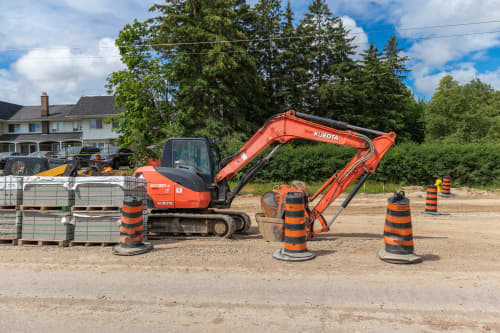 A backhoe is beneficial for those projects where you don't do enough digging for an excavator to be worth it, but the digging arm on a backhoe is a bonus to the other capabilities of the machine.
The bucket on the front of a backhoe can be fitted with forks, brooms and other types of buckets. Just like the mini ex, the hoe on the backside can also be replaced with a number of attachments to really take advantage of the diversity.
Choosing Between a Backhoe and Mini Excavator
When renting a backhoe, some people debate whether it's better to simply go with a mini ex instead. Here are some questions to ask and things to consider when deciding between renting a mini ex or a backhoe.
1. What do you need the equipment to do?
The very first question is what you need the machine to do.
While a backhoe has the ability to dig and move dirt, the additional front bucket may not be needed. If digging or drilling is the only reason you need a machine and you're falling onto a backhoe simply because it's what you've always done, it may be time to try out a mini ex.
However, if you're looking for something that can primarily work as a material mover and do the little bit of additional digging that may be necessary, a backhoe could be the way to go.
2. What other equipment is on-site?
Backhoes have the ability to both dig and move material but you may not require a multi-purpose machine. If you have a skid steer or telehandler on-site already that can move dirt that's being dug by a mini ex, then the extra bucket on a backhoe isn't needed.
Supporting machines is something to consider.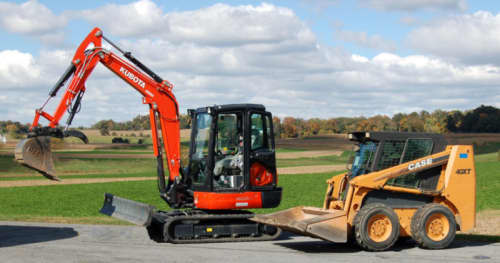 3. What size is the project?
If you're working on a small project without a lot of land space, a mini ex may be the way to go. By only having a single-arm, they take up less room than a backhoe. They can fit into compact spots and do not require as much room to turn and move around. The smaller machine and track system doesn't make it as friendly if it needs to move around a large site all the time.
If you do have a larger project where the digging machine needs to move from place to place, or potentially drive from one site to another, then the wheels and driveability of the backhoe may be a better fit.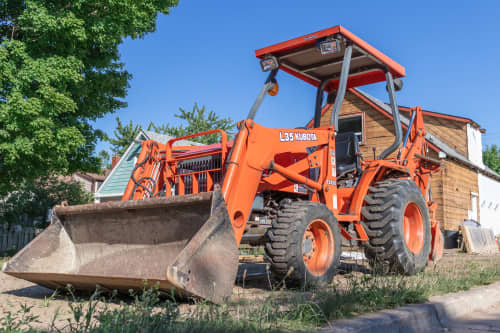 4. What type of project or site will the machine be working on?
For some specific projects or uses, the large wheels and weight of a backhoe may be a better fit. In farming, for example, backhoes are often seen as a more useful machine than a mini ex. However, for small demo projects, working in residential areas, or completing shallow groundwork a mini ex would be a much better fit.
Whatever your project or familiarity with either a backhoe or a mini ex, the question of which machine is better than the other really depends on the specifics of a project.
The biggest point when trying to decide between renting a backhoe vs mini ex is to ask the questions and choose the best fit. Going with the more efficient machine instead of the one you're more familiar with can help keep projects moving the way they should.
__________________________________________________________________________________________________________________
Not sure which machinery is right for you? Contact our professional team at +6017 882 3278 for more information. We can help make the best recommendation that suits your objective. With more than 600+ suppliers in Malaysia, we have many Backhoe and Mini Ex for rent or sale. Talk to us or visit our site, here.