Skid Steer – Why Do You Need It?
In this article, we will be sharing information on skid steer, also called as 'Bobcat' or 'Skid Steer Loader'. Take a read on the article by Dozr below to find out how your construction project can benefit from a skid steer rental.
Skid steers are a versatile construction machine that are most common found on construction site. Compact in size, skid steers can be a great addition to any project.
1. Skid Steer Attachments Make It A Multi-Use Tool
The number one bonus for renting a skid steer is that the machine has a number of attachments for it. You can drill a hole with an auger, can load and dump the dirt into a truck and use a brush to clean the site afterward – all with the same machine.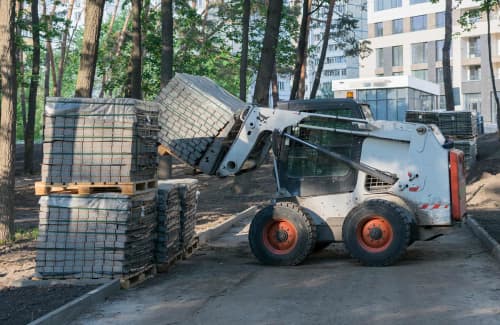 2. A Great Pair for Other Machines
Renting specific machines for a specific task is proven to improve efficiency and safety on a construction site. In the past, for example, many people would rent a backhoe and use it to both dig and move dirt and materials. Now, however, it is more popular to rent a mini ex and pair that with a skid steer to improve the efficiency of the machines.
Skid steer and mini excavators are the most common pairing. Skid steers can also be used with forklifts, scissor lifts, large excavators, dozers and even telehandlers to help improve the efficiency of a job site.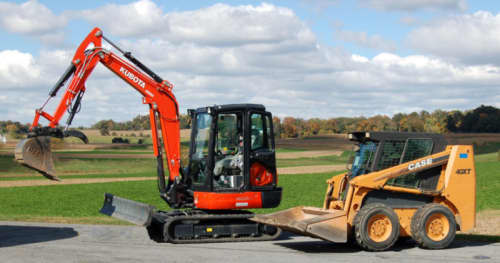 3. Compact in Size Without Compromising Power
Wheel loaders are often incredibly large and bulky. A skid steer is a great alternative that is compact in size. A smaller machine can maneuver tighter corners, can be operated in a more precise manner and use less fuel. Although the bucket is smaller, the efficiency of operating a smaller and more precise machine pays off for smaller projects.
4. Perfect for Any Ground
Skid steer rentals are available for both tracked and wheeled machines. This means that you can be more particular about what type of tread you need for your project. Mucky ground and field work benefits from a track while finished roads and paved spaces would benefit from wheels.
The diversity of machine tracks also means that the skid steer is great for all types of projects. Commercial or residential construction, landscape projects and small home reno can benefit from a skid steer rental.
5. Affordable Prices for Daily, Weekly and Monthly Skid Steer Rentals
Because skid steer machines are more compact, the price to rent and have it delivered is lower than it would be for any larger equipment. The affordability of a skid steer is definitely appealing for projects that are under a tight budget. With daily, weekly and monthly rates, the flexibility of renting this machine for exactly when you need it also helps keep budgets within limits.
Conclusion
In summary, this multipurpose equipment for the price of one rental is beneficial as it helps to save money, improve efficiency, compact and suitable for any type of project. We hope that this article helped you in deciding if your project need to rent a skid steer. Should you have any question or in need of consultation / suggestion on the best equipment to rent for your project, feel free to reach out to our professional team. With over 600+ supplier across Malaysia, we will assist you to get the best rental offer in the market!
Article source: Dozr.com